What is Jacaranda Academy?
Jacaranda Academy is one of the oldest schools in Edenvale. We are a community of teachers, learners and parents at and our aim is to ignite our children's potential.
Our History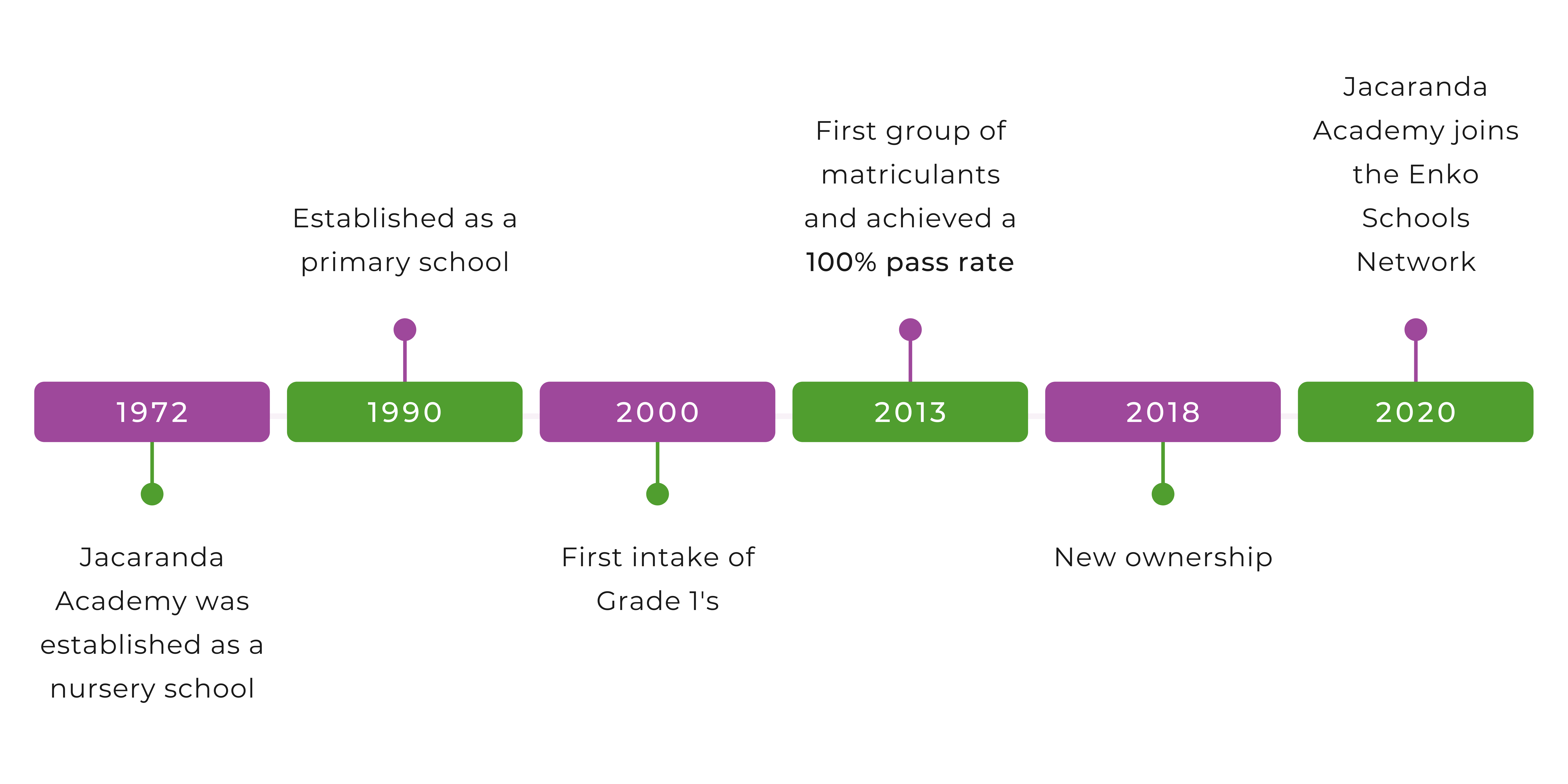 Jacaranda Academy was established in 1972 as Jacaranda Creche and Nursery School, on the current premises in Van Tonder Avenue, Edenglen. Over the years the school has become synonymous with quality childcare and education at an affordable price. Due to the ever-increasing need for good, quality education, the school gradually grew and new classrooms were periodically added to meet the ever-increasing demand.
In the late 1990's a need was identified for a private primary school in Edenvale. Renovations were made to the existing premises and at the beginning of 2000, the school saw its first intake of Grade1's. During 2002 a new wing was added to accommodate the primary school section on the premises in Van Tonder Avenue.
In 2013, the school had its first group of matriculants and achieved a 100% pass rate in the National Senior Certificate examinations. For the period 2014 to 2016, the matriculants wrote the IEB Senior Certificate examinations and in all three years consecutive achieved a 100% pass rate.
In January 2018, Jacaranda Private College (Pty) Ltd acquired the school premises and with the new ownership a number of changes were introduced in terms of improving school infrastructure , learner facilities and staffing.
In September 2020, Jacaranda Academy joined one of the fastest growing network of school in Africa – Enko Education. Enko Education currently has 14 schools across Africa, Enko Education aims to open 30 more schools in at least 20 African countries over the next five years.

From to 00 Grade 7

Offer CAPS Curriculum

French to all grades

Individualised Attention

Extra-mural activities