OUR VISION
Enko Education a group with an interncontinental vision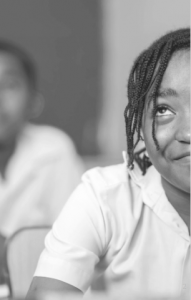 OUR VISION

Our vision is to unlock learners' potential across Africa to enhance the global future. 
Enko Education acts for the African youth, the largest population of young people in the world: their talent, their ambitions, and their future.
We want to empower African learners, unlock their potential, enabling them to access the best universities in the world. In taking up this challenge, we share inspirations, dreams, laughter, and knowledge.
We want African learners to blossom. Here and now, in their studies. And tomorrow, in their accomplished lives. We build up African students' confidence. We give them the tools to help them become the architects of their own future, make a significant and lasting impact to the world of today and tomorrow.
The foundations for these futures are being laid today.
Enko Education is African. Our ambition is embodied by our teams and reflected in all our projects across the continent. We are committed to respecting and celebrating the diversity of African schools.
And we will take our mission further. We will empower more and more people across the continent, unlocking more and more potentials to change more and more destinies. As pathmakers, we will continuously discover and try. As lifelong learners, we will always aim to improve what we've started.
At Enko Education, we believe that learning is power, we believe in our African roots and we believe that the paths we create are endless.

14
schools in 9 African countries

2,100+
learners across the continent

100%
of the first batch of students admitted to prestigious universities
OUR VALUES
Everyone at Enko Education embodies these values as we seek to achieve outstanding results
OUR VALUES
Every day, four values guide us. They express who we are, and guide what we do as well as what we say. This set of standards means that we speak with one voice, we embody Enko Education and have a real impact.
Caring
We seek to develop others and ourselves
We are positive and optimistic
We build trust through honest and open communication
Committed
We are resilient, we don't give up
We do what we say and say what we do
We take ownership of our objectives and go the extra mile to achieve them
Pathmakers
We dare to start and then improve
We design new solutions relevant to our unique context, without reinventing the wheel
We are humble and ambitious
Team-spirited
We practice solidarity: we go beyond our own responsibilities to support our teammates
We empower others to thrive and to grow together
We celebrate our diversity