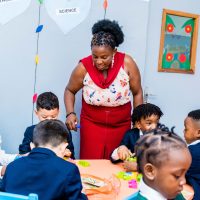 International Primary School
2 – 11 years old
Miniprix Bastos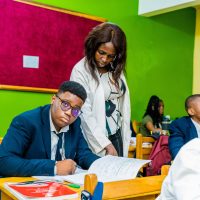 International Secondary School
11 – 19 years old
Nouvelle Route Bastos
Welcome message from the Head of School
Dear Parents, Guardians, and Prospective Families,
It is with great delight that I welcome you to the website of Enko La Gaieté International School, the first school among the Enko Education network of schools. Enko La Gaieté International School is also the first IB World School in Cameroon.
We are proud to be one of the few leading schools in Cameroon and the rest of Central Africa offering quality international education from pre-nursery to grade 13. As a day school, we are passionate about grooming the next generation of individuals that will shape the future.
Our teaching and learning are guided by the Cambridge International Examinations curriculums and International Baccalaureate Diploma Programme curriculum. As we aim to prepare learners for studies in the best universities in the world; we see a combination of Cambridge Lower Secondary and Cambridge Upper Secondary as a strong foundation for the International Baccalaureate Diploma Programme (IBDP). The IBDP is held in the highest regard by top universities in the world.
The actualization of our mission is measured by the successes of our present and former students. You hear our voices in top international summer programmes and the hearts of the campuses of universities of Toronto, SciencesPo, Yale, Ottawa, ALU, Hult, École Polytechnique, ESSEC, Exeter, UBC, Neoma, Xavier, and many other exceptional universities in the world. When our students graduate, they join a growing international network of high achievers and considerate global citizens.
At Enko La Gaieté International School, we are aware of the difficult process of choosing the right school for your child. Beyond perusing our website for the information you may need, I invite you and your child to visit our school to observe how lessons are delivered, take part in the open and respectful nature of teachers-students relationships, meet the programme coordinators, and have a friendly chat with me.
Come and join a school that puts students at the center of teaching and learning.

Country Head of Schools
Enko La Gaieté International School
The School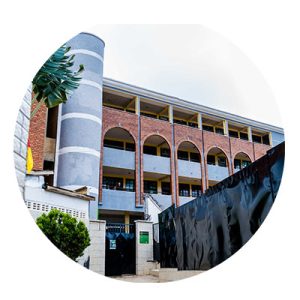 Enko La Gaieté Campus is an African international school, member of the Enko Education network. Enko Education is the largest network of IB World Schools in Africa, with the mission of increasing access to the world's best universities for learners across Africa.
Enko Education has developed an innovative model. Our programmes lead to globally recognized and sought-after qualifications. We are able to offer those at a fraction of the cost charged by other international schools in Africa. Furthermore, Enko learners are supported in their higher education applications through our university guidance programme. We offer an outstanding learning experience striving to educate our learners with Africa at heart and the world in mind.
Enko Education model is showing impressive results with learners joining top universities like Yale University (USA), Sciences Po (Fr), the University of Toronto (Canada), African Leadership University (Rwanda) and many more.
With currently 14 schools across 9 African countries, Enko Education aims at offering high-quality education to 100,000 students by 2030. Several international financing institutions, including Proparco, I&P, Oiko Credit and Liquid Africa, support Enko Education's ambition.
Our vision is to unlock learners' potential across Africa to enhance the global future. We do so by increasing access to the world's best universities and successful careers through high-quality international education. Four values guide us: we are Caring, Committed, Path-makers and Team-Spirited.

2 – 19 y.o
We cover Grade 8 to 12

50 hrs / year
of information offered to our accredited teachers

100%
of the first batch of students admitted to prestigious universities