African education group Enko Education acquires the Kalanso & Kodonso schools in Bamako, Mali
Bamako, February 22, 2023 – Enko Education, the group of African international schools founded by Cyrille Nkontchou and Eric Pignot, has taken a new step in its development through the acquisition of the schools Kalanso 2 and Kodonso in Mali. 
Renowned in the Malian educational landscape, Kalanso 2 and Kodonso are undoubtedly among two of the best schools in Bamako. The two institutions were founded respectively in 1994 and 1998 by Mrs Nadine Quervel Sanoh and Mr Dianka Sanoh, and have forged their reputation thanks to the excellence of their results in the national examinations.
Enko Education: a choice by heart and by reason
After more than twenty-five years at the head of these two schools, the founders have meticulously chosen Enko Education to ensure the development of the institutions while remaining true to the values of excellence and discipline for which they are renowned.
« We have spent the last twenty-five years caring for Kalanso and Kodonso tirelessly and the time has come for us to pass the torch. Both of our children are living abroad and neither of them were ready to return to Mali to manage the schools. In addition, we would like to be closer to our grandchildren. However, it was out of the question to entrust the project of a lifetime to just anyone, and as such, we set out to find the best possible buyer to continue our work, » says founder Nadine Sanoh.
Mrs and Mr Sanoh now have full confidence in the Enko Education Group, which shares the same philosophy that has guided them to this point. With its experience in the management of schools in Mali and in Sub-Saharan Africa as well as its pedagogical approach, Enko Education was the ideal choice to continue the educational mission of Kalanso 2 & Kodonso.
Mr. Sanoh adds: « We were immediately seduced by Enko Education's approach and its school model based on three pillars: African Roots, Global Wings, Future Oriented. Our two schools fit perfectly into this vision. Enko Education has found the right balance between maintaining the DNA of our schools, which have made them successful, and modernising them to prepare for the future."

A strong development axis for Enko Education
During the coming years Enko Education plans to implement in Kalanso 2 and Kodonso a solid programme to strengthen its teachers' skills, support students in their choice of tertiary education, and ensure  the modernisation of the school's facilities. 
Mossadeck Bally, CEO of the Azalaï Hotels Group, President of the Conseil National du Patronat du Mali (CNPM) and partner of Enko Education in Mali, praises the work of the founders: « Mr. and Mrs. Sanoh have done an exceptional job in raising these two schools as models of excellence in Mali. There is a very high demand for quality education in Mali. With its experience on the continent, Enko Education brings an additional comfort of quality and innovation that will greatly benefit Mali's youth. »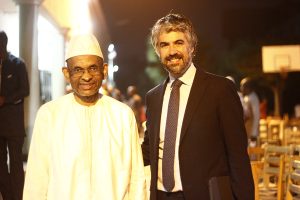 In order to preserve the link with its founders, Mrs  and Mr  Sanoh will be part of the jury for the award of a « Sanoh Scholarship » to help deserving students from disadvantaged families to pay school fees.
This acquisition marks another step in the development of Enko Education. « Many school owners are looking to hand over the reins, to spend more time with their families while securing the future of their school. Enko Education can now welcome schools that share our values and wish to offer quality education », explains Eric Pignot, CEO and founder of the group. 
African Roots, Global Wings, Future Oriented
Enko Education is a rapidly growing group of African international schools, increasing access to the best universities in the world for students on the continent through quality education. Operating in 9 countries in Africa (Mali, Cameroon, Ivory Coast, Senegal, Burkina Faso, South Africa, Zambia, Botswana, and Mozambique), Enko Education started its operations in Mali in 2018, with the opening of Enko Bamako. Located in Quartier du Fleuve, Enko Bamako is the first school in Mali to be authorised to offer the International Baccalaureate Diploma Program. 
Today, Enko Education has more than 600 alumni studying at more than 200 universities around the world, including Yale University (USA), the University of Toronto (Canada), Sciences Po (France), African Leadership University (Rwanda), Capital University of Economics and Business (China), and others.
With the acquisition of Kalanso 2 and Kodonso, Enko Education now counts 14 schools, 4 of which are acquired schools. The group has reached 5,000 students and aims to deliver quality education to 10,000 students by 2027 with the financial support of Liquid Africa, Proparco, Investisseurs & Partenaires (« I&P ») and Adiwale Partners, amongst others.
Press contact
Fanny MORAL – fanny.moral@enkoeducation.com – +27 84 802 7164  
Mien DE GRAEVE – mien.degraeve@enkoeducation.com – +32 479 299 588