The International Baccalaureate: A Worldwide Diploma
What is the IB programme?
The International Baccalaureate, formerly known as the International Baccalaureate Organization, is an international qualification founded in 1968 in Switzerland and recognized by universities around the world. The goal of the IB is to give students around the world an equal chance to have access to a rigorous, worldwide standardised curriculum that can earn them an internationally recognized diploma useful for entry into top universities around the world. 
The International Baccalaureate, known as IB, offers four educational programmes: 

This programme is meant for children aged 3 – 12 to become active participants in their own learning.
The MYP aims at developing the confidence of students aged 11 – 16 in making connections between their learning in the classroom and the real world.

This Diploma programme is a future-ready programme designed to prepare students aged from 16 – 19 to get admitted in universities worldwide.

A unique programme for students in their final school years. It equips them with future-ready skills and prepares them to follow their career pathways.
What Does the IB Look Like? Curriculum Structure & Requirements

The IB Curriculum is made up of two main components: The class requirements and the Core. 
Class requirements
The first requirement to earn an IB diploma is to take courses from the following subjects groups: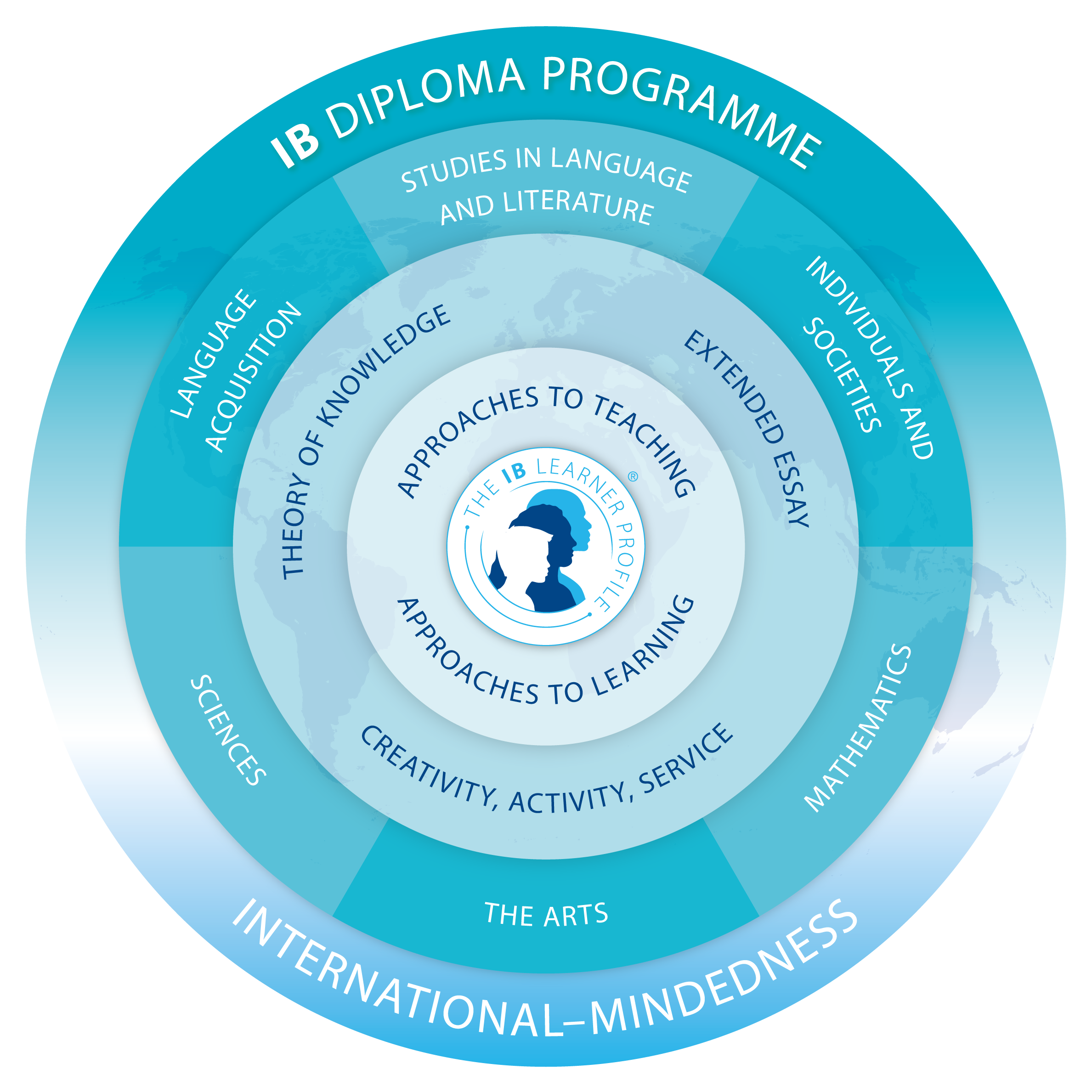 Students are required to take at least three (but not more than four) subjects at a higher level for a total of 240 teaching hours.
The remaining classes will be taken at the standard level with a total of 150 teaching hours. 
The Core
Completing the Core is the other requirement to earn an IB Diploma. It is composed of three components namely: 
Theory of Knowledge

: The TOK course is mandatory for all students and is assessed through an exhibition and a 1,600-word essay. The goal of this course is to encourage students to become critical thinkers in areas of knowledge;

Extended Essay

: An independent piece of research(4,000 words) that gives students an opportunity to investigate a topic of personal interest to them

Creativity, Activity, Service

(CAS): Students are required to complete a project in one of those areas.
For each course, students have to take an exam with grades ranging from 1 to 7 with 4 considered passing and 7 being the highest grade. 

Is IB an Excellent Choice for Your Child?

If you dream of an internationally recognized education for your child, then the IB is just what you need. The IB is a prestigious diploma, recognized worldwide by the best universities for its high-quality education. If your child graduates from an IB school, he has a better acceptance rate into top-ranked universities. The IB also offers a great advantage in the professional world where employers are impressed by its quality. The IB provides your child with skills that can help him/her transition seamlessly into any prestigious university while being able to cope with the programs of such a university. In an increasingly connected world, the IB is the perfect way for your child to have access to global citizenship and a globally recognized career path.

What are the Advantages of Earning an IB?

While more and more schools are offering the IB program, parents and students need to know all the pros of choosing this program.
University admission
According to some studies on IB students' acceptance rate at the top 25 US universities, IB graduates' acceptance rate into ivy league universities is up to 18% higher than the total population acceptance rate. Other research has also shown that IB graduates have a better chance of enrolling in one of the UK's top 20 universities and colleges than other students with similar qualifications.
Challenges
The IB is an academically challenging programme that enables students to show what they are capable of. They are encouraged to think critically and solve complex problems. This boosts their confidence and pushes them forward their whole life.
The world is your oyster!
The IB is recognized in various universities and colleges worldwide. Earning an IB is one the easiest way for African students to get admitted into top-ranked international schools such as Harvard, Yale, Oxford, etc. Moreover, another great advantage of the IB curriculum is that it teaches students to become culturally aware and engage with people in a globalised world. 

Personal growth
IB students develop strong academic, social, and emotional characteristics. They are able to share their opinions, develop independent research skills, balance academic work with extracurricular activities and look at things through various lenses.
The International Baccalaureate is a world-renowned and recognized diploma for students who seek a broad and challenging curriculum that helps them develop all the skills required for success at university. If you would like your child to receive a high-quality international education in Africa to join the best universities worldwide, you should consider enrolling him in an IB school such as Enko Education.
Enko Education is the largest network of IB schools in Africa whose goal is to provide access to quality international education at affordable rates on the continent. Up to now, Enko Education has opened 10 IB schools and plans to open more schools by 2030.
Join our IB schools in Africa! 
Frequently Asked Questions
Why should my child do the IB?
The IB diploma is an excellent choice as it provides students with skills and knowledge that make them ready for international university programmes.
What are the benefits of going to an IB school?
Students at IB schools are given a unique, challenging, and diverse education with 21st-century skills such as critical thinking, problem-solving, and cultural awareness.
Is the IB recognized worldwide?
The IB is recognized in almost every university in the world, including in Africa, as an excellent entry preparation. Earning an IB also helps in avoiding degree equivalence issues which often arise when African students apply to international universities.