Enko Ouaga and Enko Bamako Professors Embark on a Professional Development Adventure
It is safe to call them twin schools, because they both belong to the Enko Education family, are located in West Africa and were opened in September 2018: Enko Ouaga and Enko Bamako started the year off with a group of dynamic students that were motivated and excited to be there. The teachers too, were ready for a new adventure. Their professional development training began with a visit from two members of Enko Education's core team: Estelle Hughes, Head of Talent Development and Fanny Moral, in charge of student recruitment, marketing and communication.
Thanks to a workshop on Enko culture preceded by class visits with feedback sessions, the teachers of Bamako and Ouagadougou started this school year in reflection. At Enko Education, teachers are lead, very early in the year, to reflect on personal, professional development goals. Each teacher in each Enko School must organize at least 100 hours of training and apprenticeship each year. This ensures the quality of teaching and greatly benefits the students.
During Fanny and Estelle's visit, the teachers received a lot of information but they also had the opportunity to express their opinions on the training. Here is what some of them had to say…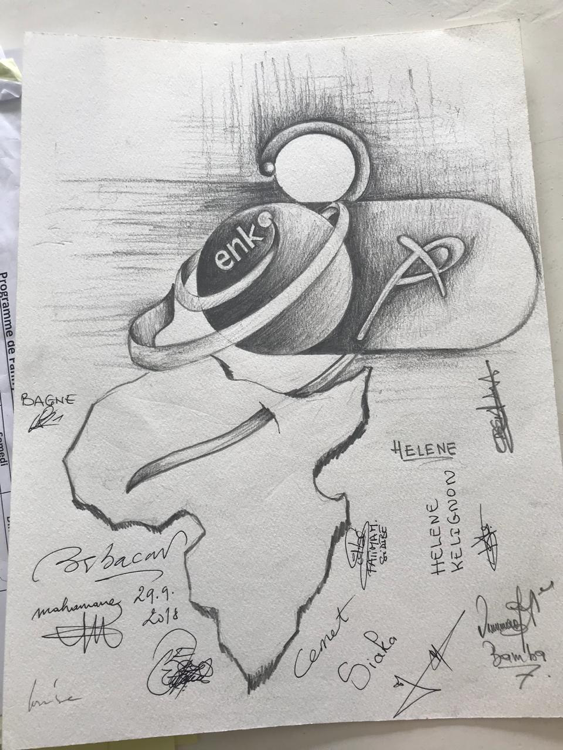 With open arms
The Enko Bamako and Enko Ouaga teachers welcomed their professional development training with open arms. Their extremely positive reactions demonstrate their personal commitment:
'This reflection has added to our understanding of the African and international dimension of Enko Education …' (Daniel Ouattara, Enko Ouaga)
'The meeting allowed us to become more familiar with IB concepts' (Mamadou Belem, Enko Ouaga)
'Estelle led me to question the subtleties of bilingualism and how to implement it in my mathematics course' (Cennet Karakus, Enko Bamako)
'It was a moment of sharing' (Lassina Traore, Enko Ouaga)
We must also acknowledge the way teachers have embraced the Enko spirit:
'Reflecting on the ENKO culture has made me realize that many of us have humanistic values ​​and that if we want Africa to develop, our children must follow an education based on exchange and interculturality '(Isabelle Doussa, Enko Bamako)
Teachers must always be learning. I appreciated having an expert observe me. (Salifou Dembele, Enko Bamako)
The teachers of Enko Ouaga and Enko Bamako gave the trainers, Estelle and Fanny constructive suggestions and critical feedback so that they may be able to improve future workshops:
'It would've been better if our trainers had spent more time with us in the classroom.' (Mamadou Belem)
It would have been more beneficial for us if there had been more time allocated to exchange ideas and receive feedback for the classes observed, in writing. '(Tano Angoua, Enko Bamako)
I especially like the idea of ​​the professional development booklet that was prepared for us. It would be a great idea, for improvement and monitoring, if after a few months of implementation, we could come together to assess the strengths and weaknesses of the program to identify areas for improvement (Constant Somda, Enko Ouaga)
We wholeheartedly request more educational courses such as this one, and hope that they are sustained and grow (Helene Kelignon, Enko Bamako)
Estelle and Fanny would like to thank the teaching staff for the wonderful moments of exchange and growth. Thanks to all the staff and also to the parents of Enko Ouaga and Enko Bamako for an incredible welcome. A special thanks to Louise d'Aragon and Thierry Adam for their hospitality and commitment to excellence in their respective schools.
Written by Estelle Hughes
Based on the survey from the Professional Development training.