How is Enko Education helping students for university admissions
Our University Admissions Manager explains how Enko Education is supporting students in their university admissions. She explains what new features were added to existing practice due to the COVID-19 pandemic. 
COVID-19 demystifies the success of Enko university admission counselors
As the world has rapidly switched to online living and working style, many find this an unusual working environment. Fortunately, it was not new nor unusual for Enko university guidance counselors. 
The pandemic drastically increased the value of education at secondary and at the higher education level. That is why Enko counselors stay online to still make students' dreams come true and support their university applications until enrollment.
A strong team of counselors is always there to help
At Enko Education, we value cooperation and sharing of best practices. As a network of international schools with 15 schools in 9 African countries, continuous communication on a daily basis is key. 
Our team of 10 university admission counselors use several online tools and platforms:
Slack channels

are utilized to share, discuss and learn from each other

Weekly

calls on Zoom

enhance the team spirit, give the opportunity of ongoing professional development and make us feel stronger and supported. 
Team spirit spreads to students and they also feel to be the part of the network that cares.
Our response to recent challenges
Implementation of an online university application platform
We recently signed the agreement with CIALFO to upgrade the university admission services at our schools. This modern, online platform is designed for high school students and it serves as a personal space where students can: store their academic and extracurricular progress over several years; search for the best suitable universities; obtain a professional evaluation of personality and academic ability tests; receive individual tasks from a counselor; schedule a meeting and lead unlimited communication with their counselor; receive news and updates from universities; get notifications about university webinars or the events by counselors. Finally, in grade 12, students can submit their applications to universities, follow up on the progress and record the application status of each university.
Online meetings for direct support
Online meetings with Enko students have been a regular practice for Enko counselors. Ddue to the complete closing of schools, these meetings have become even more intensive. Each online gathering has a specific goal and objective and the topic is communicated with the students in advance so they are prepared for it. This strategy increases students' engagement. It has the advantage of being less time consuming, as the discussion is relevant and to the point. 
"I definitely miss the regular informal encounters I experience at school. These are always great opportunities to get updates from students and share some tips outside the more formal one-on-ones. Working remotely I have had to reach out more often via WhatsApp and email to make up for this." shares James Ball – counselor at Enko Sandton 
Cialfo and Zoom integration which happened recently allowed us to schedule the meeting via Cialfo so the meeting can fit everybody's schedule and deliver handouts.
Non-stop communication with the students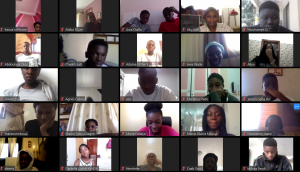 Our team decided to take advantage of this period and has planned information session with grades 11, 10, and younger students. Deciding on which university you want to study is a tough choice and many criterion should be considered beforehand. 
We decided to treat the whole process as a personal project: a series of online sessions will be held starting May the 4th. The sessions will cover all aspects starting with the tips of how to choose the best-fit university to the stage when students need to collect, file and send the applications.
The remarkable project, "Vision Board", of an Enko Bonanjo counselor Ms. Munoh Adjeck has been spread and implemented to other Enko schools and the counselors train their grade IX and X students.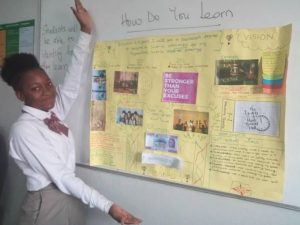 About the Vision Board, Ms. Munoh Adjeck says: "A vision board is a visualization tool that refers to a board of any sort used to build a collage of words and pictures that represent your goals and dreams. By placing visual representations of your goals into one space, students can easily visualize, remember, and imagine them as if they have already come true is one of the best ways to activate the Law of Attraction (Career Goal statements). It helps students develop self-awareness about their future selves and career aspirations."
Enko Community keeps a close connection with alumni
Hivebrite is another advanced online platform that keeps our communication live even with Enko alumni. Enko alumni, current students and counselors share thoughts on this platform and obtain the latest news from the universities. Enko Alumni committee members actively communicate with their younger peers, provide recommendations on academic issues and higher education opportunities. 
Please, share your comments, feedback, and suggestions so we can better accommodate your needs.